Nissan Pathfinder Top 10 Exceptional Exterior Features
The Nissan Pathfinder is a standout SUV that combines style, functionality, and ruggedness. Here are the top 10 exceptional exterior features that set it apart from its competitors: 1. Muscular and Aerodynamic Body Structure The Pathfinder boasts a bold and muscular body structure that exudes strength and presence on the road. Its aerodynamic design reduces … Continued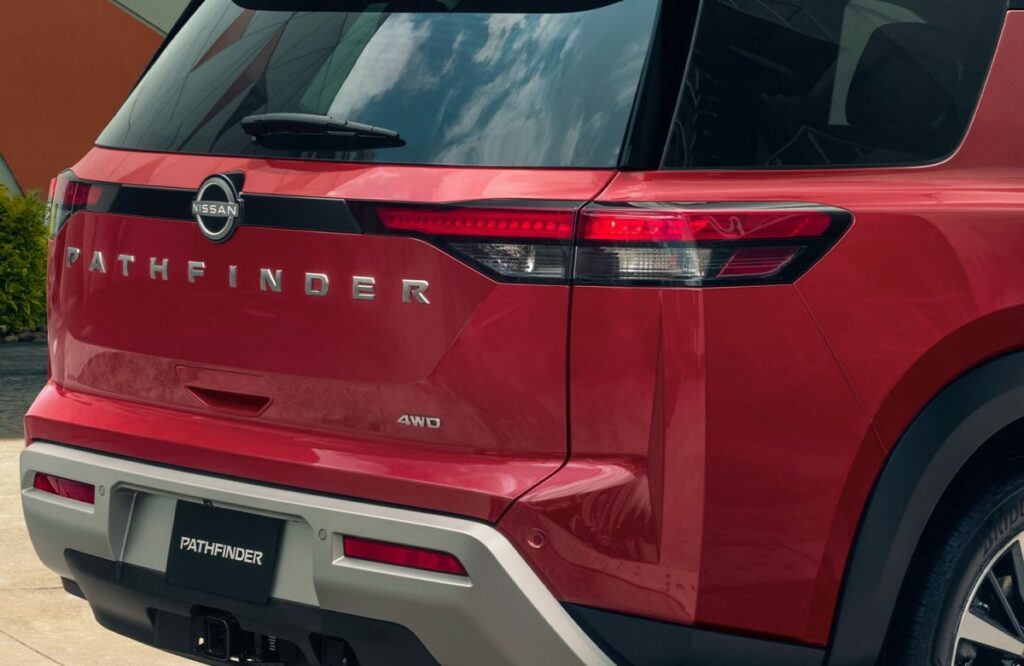 The Nissan Pathfinder is a standout SUV that combines style, functionality, and ruggedness. Here are the top 10 exceptional exterior features that set it apart from its competitors:
1. Muscular and Aerodynamic Body Structure
The Pathfinder boasts a bold and muscular body structure that exudes strength and presence on the road. Its aerodynamic design reduces wind resistance, improving fuel efficiency and overall performance.
2. LED Lighting System
The Pathfinder features LED headlights, daytime running lights, and taillights. LED lighting not only enhances visibility but also consumes less energy compared to traditional halogen bulbs, contributing to improved fuel efficiency.
3. Stylish Alloy Wheels
The Pathfinder has stylish alloy wheels that not only add a touch of sophistication but also enhance the vehicle's overall performance and handling.
4. Distinctive V-Motion Grille
The V-Motion grille is a signature design element of Nissan vehicles, including the Pathfinder. This bold, chrome-accented grille not only adds a touch of elegance but also improves aerodynamics and allows for better airflow to the engine.
5. Roof Rails
The Pathfinder comes with sleek roof rails that provide additional storage options. Whether it's carrying bikes, kayaks, or extra luggage, the roof rails allow you to conveniently transport your gear, making the Pathfinder ideal for outdoor adventures.
6. Power Panoramic Moonroof
The Pathfinder offers a power panoramic moonroof spanning the front and rear seats, providing a breathtaking view and an open-air driving experience. It floods the cabin with natural light, creating an airy and spacious feel.
7. Hands-free Power Liftgate
With the hands-free power liftgate feature, you can easily load and unload your cargo without fumbling for keys or pressing any buttons. Simply wave your foot under the rear bumper, and the liftgate opens automatically, making it convenient when your hands are full.
8. Vibrant Exterior Colors
The Pathfinder is available in various vibrant exterior colours, allowing you to choose a shade that matches your personality and style. Whether you prefer classic hues or bold, eye-catching tones, there's a colour option to suit every taste.
9. Integrated Rear Spoiler
The integrated rear spoiler not only adds a sporty touch to the Pathfinder's design but also improves aerodynamics by reducing drag. It contributes to the vehicle's overall stability and fuel efficiency.
10. Chrome Accents
The Pathfinder features tasteful chrome accents on its exterior, such as door handles, window surrounds, and side mirrors. These accents add a touch of sophistication and elevate the vehicle's overall visual appeal.
In summary, the Nissan Pathfinder stands out with its muscular and aerodynamic body structure, LED lighting system, stylish alloy wheels, distinctive V-Motion grille, roof rails, power panoramic moonroof, hands-free power liftgate, vibrant exterior colours, integrated rear spoiler, and chrome accents. These exceptional exterior features not only enhance the aesthetics but also provide added functionality and convenience for a superior driving experience.
Vehicles Reviews at:
Exploring the Nissan Crossover SUV Models in Canada
Nissan SUV Models: The Perfect Blend of Style and Performance
Calgary Winter: Is Nissan the Best Choice for Reliable Driving?