Quality Tires for Sale in Cochrane

Find New Tires for Sale Here at Cochrane Nissan!
When it comes time to find new tires for sale in the Cochrane area, count on the team here at Cochrane Nissan to guide you right. We are your local area tire experts. We're also an authorized Nissan dealer, so when your ride needs a tire replacement or a change, you can count on us to provide you with superior value, performance, and comfort, all at a competitive price. Here at Cochrane Nissan, we offer the Nissan Price Assurance Guarantee on most of our new tire options. All eligible OEM and OEA tires we have for sale through the Nissan Tire Assurance Program come with a 30-day Price Assurance Guarantee. That means that if you find a better price in the Cochrane area, be sure to bring it in and show us so we can give you a better price. Some manufacturers also offer additional rebates, so be sure to check in with our parts department today for more details.
Trust your local Nissan dealer – Cochrane Nissan, to have the right tires when you need them.
Why buy tires from Cochrane Nissan?
✅ First season storage is $45 with the purchase of a new set of tires.
✅ Free battery check
✅ Free Multi-point inspection
✅ Free Express vehicle wash
✅ Highly skilled Nissan certified professionals – careful and reliable winter tire installation
✅ Tires designed specifically for your Nissan vehicle
✅ Wide tire selection – we carry all the popular tire brands, such as Michelin, Bridgestone, Goodyear, Pirelli, Yokohama, Continental, BF Goodrich, Uniroyal, Dunlop, General, and more.
✅ Competitive prices – Price Assurance Guarantee (more info below)
✅ Road Hazard Coverage (more info below)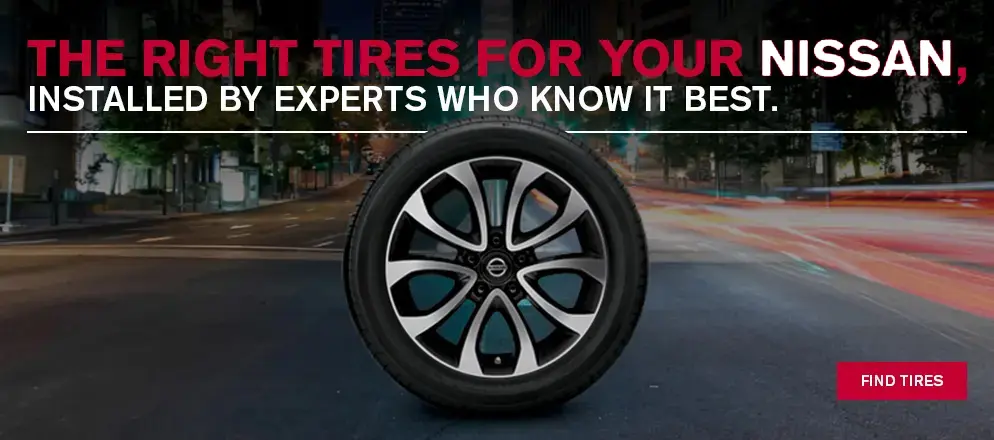 Nissan Price Assurance Guarantee
Eligible OEM and OEA tires purchased through the Nissan Tire Assurance Program come with a 30-day Price Assurance Guarantee. Find a better price advertised on a tire we offer, and we'll ensure we give you the best price.
Some manufacturers offer additional rebates. Please see our parts department for more details.
Nissan Canada – 24-Month Road Hazard Coverage
All eligible tires purchased at your retailer location include a 24-month road hazard coverage:
100% coverage the first year
50% coverage in the second year
Flat tire repair coverage up to $40 per occurrence.
See your service advisor at Cochrane Nissan for complete coverage details for the 24-Month Nissan Tire Road Hazard Coverage.
We're Your Certified Nissan Installation Experts!
Finding the perfect tires for sale in Cochrane is only half the battle. An incorrect tire installation can be costly at best and dangerous at worst, which is why we encourage you to trust the expert team we have here at Cochrane Nissan for all your tire installation needs. Whether it's switching your seasonal tires or replacing them completely, you can count on us to do it right and get you rolling again sooner.Our team is Nissan certified, which means we are the local area experts you can count on for any information and advice regarding new winter or spring tires for sale in Cochrane. We have been connecting drivers in this community with the new tires they need for years now, so when it comes time for a change on your Nissan, regardless of model, year, or trim, be sure to come and visit the Cochrane Nissan team first!
Whether your vehicle is a new or older model, Cochrane Nissan has the right tires to fit!