Nissan Pathfinder Top 10 Exceptional Interior Features
Seating Capacity: The Nissan Pathfinder can comfortably accommodate up to seven passengers across three rows of seating. The ergonomically designed seats provide ample headroom and legroom for everyone, ensuring a comfortable journey, even on long trips. Premium Materials: The interior of the Pathfinder features high-quality materials and meticulous craftsmanship. Soft-touch surfaces, available leather-appointed seats, and … Continued
Seating Capacity:
The Nissan Pathfinder can comfortably accommodate up to seven passengers across three rows of seating. The ergonomically designed seats provide ample headroom and legroom for everyone, ensuring a comfortable journey, even on long trips.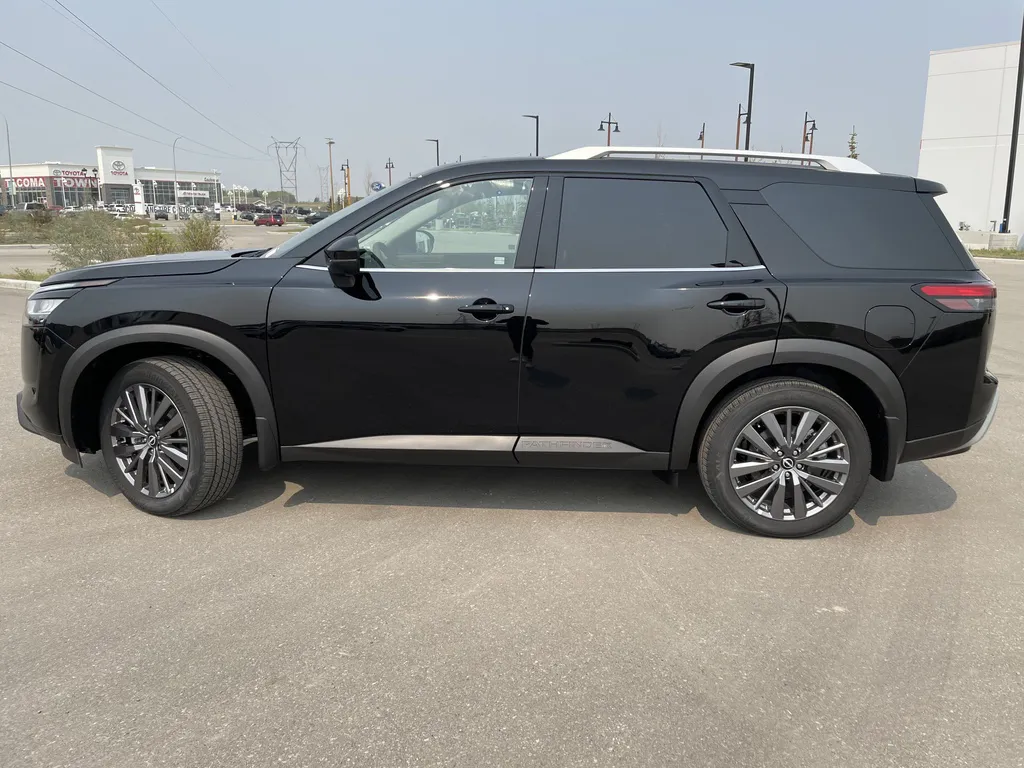 Premium Materials:
The interior of the Pathfinder features high-quality materials and meticulous craftsmanship. Soft-touch surfaces, available leather-appointed seats, and premium trim accents create an upscale ambiance. The use of premium materials enhances the overall comfort and luxury of the cabin.
Tri-Zone Climate Control:
The Pathfinder offers tri-zone automatic climate control, allowing the driver, front passenger, and rear passengers to set their preferred temperature settings. This feature ensures that everyone in the vehicle can enjoy personalized comfort.
Technology Features:
The Nissan Pathfinder has advanced technology features that enhance convenience and connectivity. The centrepiece of the dashboard is an intuitive infotainment system with an available 8-inch touchscreen display. It offers seamless smartphone integration through Apple CarPlay and Android Auto, enabling access to navigation, music, and hands-free calling.
Bose Premium Audio System:
The Pathfinder offers an available Bose Premium Audio System, providing an immersive sound experience for all occupants. With multiple speakers strategically placed throughout the cabin, this audio system delivers crystal-clear sound quality and enhances the overall enjoyment of music or other media.
Intelligent Around View Monitor in the Black Nissan Pathfinder:
The Pathfinder incorporates the Intelligent Around View Monitor, which utilizes multiple cameras to provide a 360-degree bird's-eye view of the vehicle. This feature aids parking and maneuvering in tight spaces, ensuring convenience and peace of mind.
Panoramic Moonroof:
To create an open and airy feel, the Pathfinder offers an available panoramic moonroof that spans over the first and second rows. This large glass roof allows natural light to flood the cabin, providing an expansive view and a sense of spaciousness.
Versatile Storage Options:
The Nissan Pathfinder offers ample storage options for various cargo needs. The second and third rows can be easily folded to create a flat load floor, providing up to 79.5 cubic feet of cargo space. Additionally, there are numerous storage compartments throughout the cabin, including a center console, door pockets, and cup holders.
Intelligent Key System in the Black Nissan Pathfinder:
The Pathfinder features an Intelligent Key System that allows keyless entry and push-button start. With the key fob in your pocket or bag, you can unlock the doors by simply touching the door handle. This convenient feature adds to the overall ease and convenience of accessing the vehicle.
Advanced Safety Features:
The Nissan Pathfinder is equipped with a range of advanced safety features to ensure the well-being of all occupants. Some notable safety features include Intelligent Emergency Braking, Blind Spot Warning, Rear Cross Traffic Alert, and Intelligent Cruise Control. These features enhance safety and provide peace of mind during every journey.
In summary, the Nissan Pathfinder offers a spacious, luxurious, and well-equipped interior that sets it apart from other vehicles in its class. With its comfortable seating, premium materials, advanced technology features, versatile storage options, and advanced safety features, the Pathfinder provides a superior driving experience for those seeking a spacious and well-appointed SUV.
Nissan Reviews at:
Nissan SUV Models: The Perfect Blend of Style and Performance
Calgary Winter: Is Nissan the Best Choice for Reliable Driving?
Exploring the Lane Departure Warning Feature in the Nissan Kicks